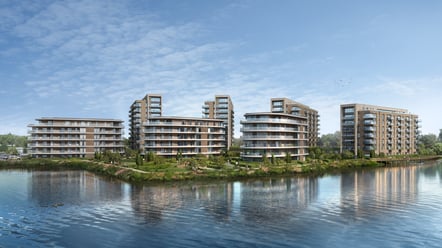 "During the pandemic and with travel restrictions in place, we had to amend our entire business model to accommodate the new normal. When it came to attracting leads from the Middle East, we were quickly at a loss. We were receiving a large quantity of leads from our then digital agency, however, none of these leads were yielding quality results. It seemed like an impossible task but having previously experienced the quality of work and results by Nexa for past campaigns, we knew that their innovative and highly strategic approach to digital marketing and lead generation would help us break boundaries and elevate sales in such a difficult time. Needless to say, our expectations were exceeded. Nexa brought us the highest quality leads and improved interest and sales in the developments. Not only did we generate quality leads and increase sales, we achieved a measurable return on investment."
About Savills
Savills is one of the world's leading property advisors with its services spanning the globe, with 39,000 experts working across 600 offices in the Americas, Europe, Asia Pacific, Africa and the Middle East.
Challenges
Nexa was faced with a variety of significant challenges during this time:
The Covid-19 pandemic took an enormous toll on the real-estate industry due to travel restrictions which impacted in-person visits from the Middle East to developments within the UK. With this in mind, Nexa was tasked with figuring out ways to entice the target audience to take immediate action without having to view the property in person.
The developments Nexa was tasked to work on were Bankside Gardens and Green Park Village. Before Nexa took on the campaigns, Green Park Village was selling relatively well based on its location and design while Bankside Gardens was struggling in the current economic crisis.
Another notable challenge posed was the overly competitive and over-saturated market as prospects had a plethora of options to explore when purchasing real-estate in the UK.
Solutions
In order to overcome the significant challenges, Nexa implemented the following strategy:
Well Crafted Customer Journey: Nexa built a customer journey and created a sales funnel using HubSpot as the primary marketing technology tool. The pipeline was crafted to guide the buyer's journey and take them through the process of purchase without it feeling necessary to visit the property in person. This was done by using aspirational content that evoked a sense of purchase urgency.
Microsite for Lead Generation: The Nexa design team created an eye-catching microsite through HubSpot in both English and Arabic that was crafted based on the customer journey. All landing pages were optimized to ensure a high site-to-visit conversion ratio.
Digital Ad Assets: The Nexa team curated English and Arabic ad assets that were aimed at Google Search, Google Display, Facebook/Instagram, Twitter, and Taboola "affiliate marketing" that could be used against the selection of the campaign objectives including: awareness, traffic to the website, and conversions.
Email Marketing: English and Arabic marketing emails were created and geared toward the nurturing of Marketing Qualified Leads to Sales Qualified Leads. All these emails were automated to aid in the identification of the most qualified prospects. This inturn, streamlined the marketing and sales processes.
Lead Scoring: Lead scoring was implemented through HubSpot to identify MQLs and SQLs. Essentially, Nexa was able to measure all of the interactions between prospects and the above mentioned content. This allowed Nexa and the client to separate good quality, hot leads from those who haven't engaged in the process and are therefore unlikely to make a purchase. This lead scoring strategy ensured that the client was not met with a high volume of low quality leads - saving them time, money, manpower and resources.
Results
A total of 481 leads were received, showing an increase of 89% from the original target. 34 of those came from the retargeting campaign launched during the final weeks of the campaign.
The Cost Per Lead (CPL) achieved was USD 28.65, which is 47% cheaper than the USD 54.18 amount that was initially anticipated.
Of the leads generated, there was 1 confirmed sale with excess revenue of USD 500k.
Of the leads generated, 18 were classified as warm leads by the client, 3 as hot leads, and 1 that was waiting for a future phase release. All of these equate to over USD 9 million in potential revenue.
Nexa achieved a 2% overall website-to-leads conversion rate, which is well above the average of 1.6%.
Got a question?
Talk to a DXG team member today.